45th President Donald J. Trump issued a statement via email on Saturday from his "Save America" PAC over the news that anchor Brian Williams will be departing from NBC.
In 2015, when he was the anchor of "NBC Nightly News," Williams was suspended by the network for six months after he told an inaccurate story about his helicopter's having been hit by a rocket-propelled grenade. He admitted on the air that he had "made a mistake in recalling the events of 12 years ago." After the suspension, Williams moved to MSNBC, where he later launched "The 11th Hour," NBC News reported.
---
Brian Williams on leaving NBC:
WATCH: Brian Williams, longtime anchor and @MSNBC host, to leave NBC after nearly 3 decades.

"The 11th Hour is way bigger than any one man or woman. The truth is, our secret has always been it's always about our guests. That will never change." pic.twitter.com/9bu2SRfrT0

— MSNBC (@MSNBC) November 10, 2021
---
In a statement on Saturday, the 45th President reacted to Williams' departure from NBC, saying in part, "he won't be missed".
"Looks like Lyin' Brian Williams is leaving ratings-challenged MSNBC to search for new employment. Never had the credibility to do what he is doing after he was caught lying about his involvement in a fake military airplane skirmish," Trump said.
"He later confessed, it never happened. He's tired of his current show and they're obviously tired of him—won't be missed!" he added. Continued Below
---
Jeff Glor of CBS reported in 2015:
Screenshot of 45th President Donald Trump's email statement: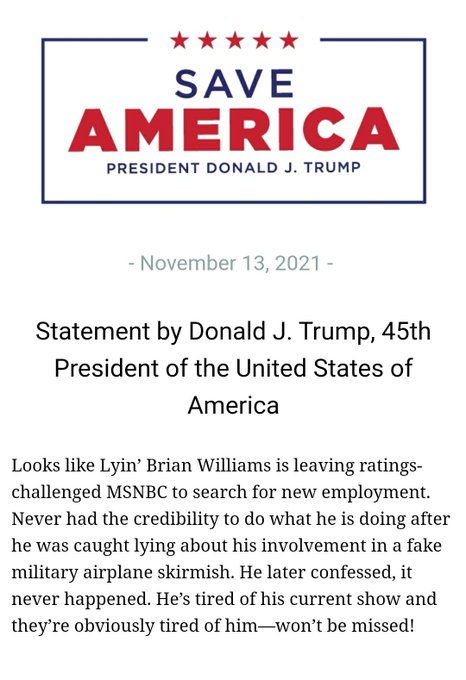 Related: Stelter Gets Ripped As 'Fake News' by His Own Guest: 'You Are One of the Reasons Why People Can't Stand the Media')
Follow us on Telegram @The Freedom Times