45th President Donald J. Trump issued a statement on Saturday via email from his "Save America" PAC, urging Senate Minority Leader Mitch McConnell (R-KY) to attend the White House signing ceremony for the $1.2 trillion infrastructure package passed by the House on November 5th.
McConnell has touted the infrastructure bill in his home state and was one of 19 Senate Republicans to vote to pass it in August. However, McConnell said he will not attend the White House signing, The Hill reported.
---
In an email statement on Saturday, the 45th President said, "Mitch McConnell has stated that he will not go to the signing of the 'Non-Infrastructure' Bill (only 11% for real Infrastructure) or, as it is sometimes called, the Elect Democrats in 2022/24 Act."
When asked this week if he would be attending, Senator McConnell said during an interview with WHAS, a Kentucky radio station, "No, I've got other things I've got to do other than go to the signing ceremony."
Trump went on to say of the expensive Infrastructure Bill: "It gives Biden and the Democrats a victory just as they were falling off the cliff. Based on the fact that the Old Crow convinced many Republican Senators to vote for the Bill, greatly jeopardizing their chance of winning re-election, and that he led the way, he should go to the signing and put up with the scorn from Great Republican Patriots that are already lambasting him."
"Our Country is being destroyed while Mitch McConnell gives lifelines to those who are destroying it!" the 45th President noted. Continued Below
---
Senator Mitch McConnell's interview this week on WHAS. His remarks over not attending the signing ceremony is at the 7:15 mark.
Listen to "Senator Mitch McConnell welcomes the infrastructure deal, not a fan of "Build Back Better"" on Spreaker.
Continued Below
---
Earlier in the week, Trump mocked McConnell in an email statement for voting for the $1.2 trillion infrastructure bill, calling him an "Old Crow".
"Why is it that Old Crow Mitch McConnell voted for a terrible Democrat Socialist Infrastructure Plan, and induced others in his Party to do likewise, when he was incapable of getting a great Infrastructure Plan wanting to be put forward by me and the Republican Party?" Trump asked.
"He continuously said he couldn't get it passed, just like I had to go around him to get the very popular Southern Border Wall built (which caused great delay—but could now be completed in one month by Biden). All of the Infrastructure money, $2 Trillion, would have gone into real Infrastructure (roads, bridges, tunnels, airports, etc)," the 45th President said.
"Also, why did Mitch give the Democrats a two-month hiatus, just long enough for them to figure it all out, when they were completely ready to fold?" he wondered. Continued Below
---
Screenshot of 45th President Donald Trump's email statements: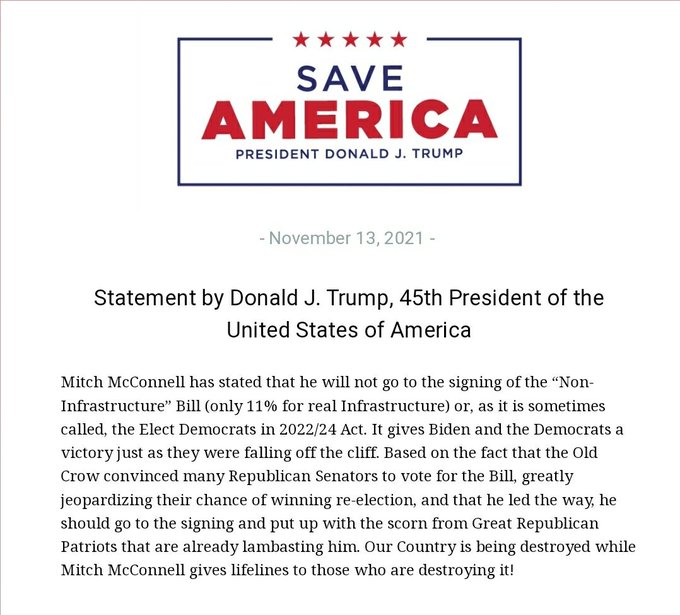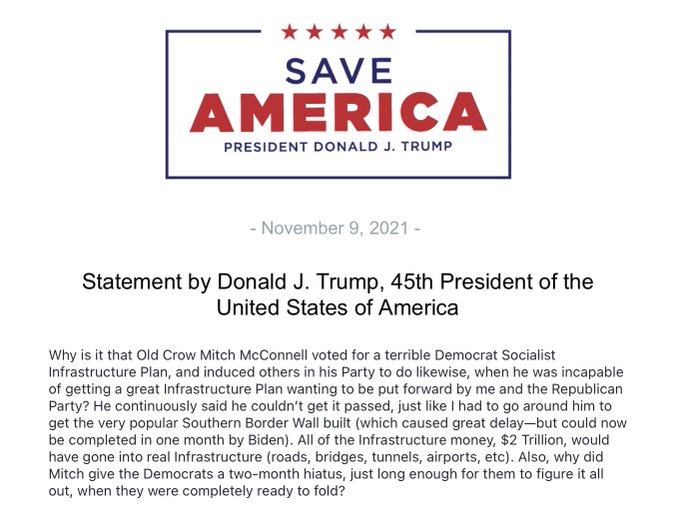 (Related: Trump: "I Have Quietly Said For Years That Mitch McConnell Is The Most Overrated Man In Politics—Now I Don't Have To Be Quiet Anymore")
Follow us on Telegram @The Freedom Times