Arizona State Senator Wendy Rogers (R), on Thursday, shared Cyber Ninja's "highly professional and detailed response countering the Maricopa Board's lies about the 2020 election".
Cyber Ninjas, a company contracted to audit the 2020 general election in Maricopa County, Arizona, released an 11 page rebuttal this week, countering Maricopa County's "baseless claims with evidence and citations".
---
Senator Rogers shared a link to the 11 page response to Maricopa County over the forensic audit findings:
Read Cyber Ninja's highly professional and detailed response countering the Maricopa Board's lies about the 2020 election. #Fraudicopa #AuditAll50States #Fix2020 #AllEyesOnBrnohttps://t.co/MrjbO41Uh8

— Wendy Rogers (@WendyRogersAZ) October 22, 2021
---
"Maricopa County continues to purposely mislead Arizonans and the American public about the nature of audit findings, and the impact they had on the 2020 General Election," Cyber Ninjas said in their rebuttal.
"Their response renames and redefines audit findings so the claim can be made that the findings are false, includes logical sounding arguments that simply don't add up, and is completely devoid of any supporting evidence. The following response to their review continues to refute their baseless claims with evidence and citations," they wrote.
Maricopa County issued their analysis this month after the September 24th Senate hearing over the audit report(s), appearing to try and fact check the forensic audit's findings in two memos. The first of the two documents appears to "fact check" the results from audit team leader Doug Logan, the head of the firm Cyber Ninjas, and Ben Cotton, who runs the company CyFIR. The second document pertains to a review of digital images of early ballot envelopes conducted by Shiva Ayyadurai. Continued Below
---
Maricopa County also set up what appears to be a fact-checking site, however, a disclaimer on their site, reads: "The Recorder's Office makes no warranty or guarantee concerning the accuracy or reliability of the content at this site or at other sites to which we link. Assessing accuracy and reliability of information is the responsibility of the user. The Recorder's Office shall not be liable for errors contained herein or for any damages in connection with the use of the information contained herein."
Meanwhile, 45th President Donald Trump also reacted to Cyber Ninja's memo in an email statement on Thursday evening, calling on Arizona Attorney General Mark Brnovich to "do something about it", adding, "Based on these findings, and many others, Arizona should decertify their Fake Election results immediately!"
Brnovich, last month, sent a letter to the Maricopa County Board of Supervisors (MCBOS) and to the Maricopa County Recorder's Office (MCRO) requesting "preservation of evidence/litigation hold" regarding the Senate forensic audit of the 2020 general election of Maricopa County, as previously reported by The Freedom Times.
---
Screenshot of President Donald Trump's email statement: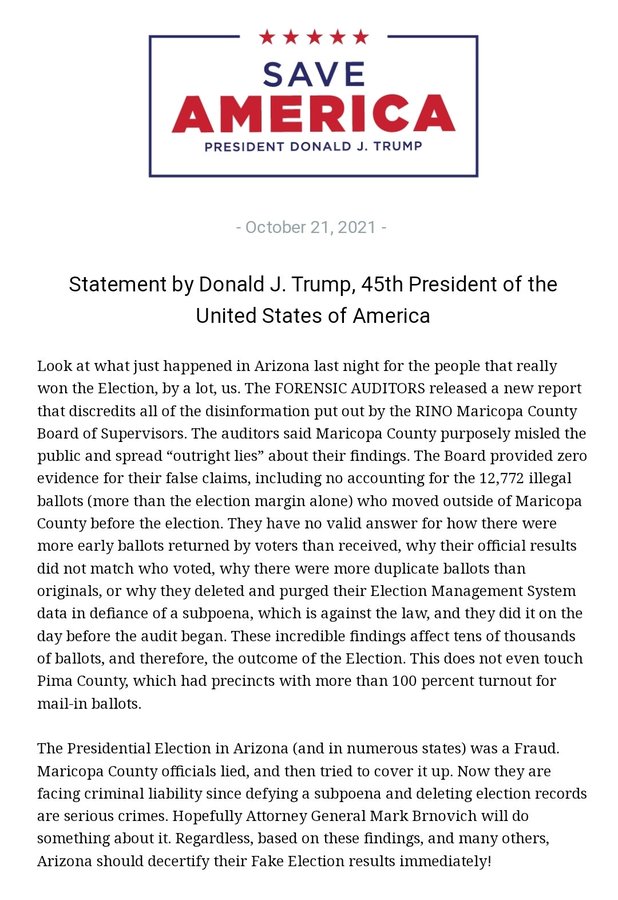 (Related: AZ Sen. Rogers Ramps Up Pressure on AG Brnovich: 'Arrest Those Who Stole Our Elections & Deleted the Election Data')
Follow us on Telegram @The Freedom Times