The U.S. economy created far fewer jobs than expected in November, the Labor Department reported Friday. Nonfarm payrolls increased by just 210,000 for the month. The number was well below Wall Street expectations of 573,000, CNBC reported.
45th President Donald J. Trump reacted in an email statement on Friday, calling Joe Biden a "one trick pony" and suggested the 79-year-old Democrat is solely focused on telling Americans to "get the vaccine".
---
Statement by Donald J. Trump, 45th President of the United States of America:
America fell 340,000 jobs short of the very modest expectations set by economists. That's because Joe Biden is a one trick pony, "Get the vaccine." But no one trusts this administration.
I developed the vaccine when everyone said it wasn't possible, now without "Trump," that's their only solution. This administration is destroying America before our very eyes because there is no leadership.
Besides my vaccine, this is the administration of no jobs and massive layoffs, high gas and energy prices, high crime, empty shelves, open borders, and a horrendous surrender and evacuation from Afghanistan.
A lot of effort and money went into RIGGING the 2020 Presidential Election, only to destroy the Country. Was it worth it? Continued Below
---
Responding to the jobs report on Friday, Joe Biden claimed in part, "… when you take a step back and look at what's happening, we're actually making real progress. Maybe it doesn't seem fast enough."
"I'd like to see it faster, and we're going to make it faster. But, maybe it doesn't appear dramatic enough. But I too would like to, as I said, move it faster. We're making consistent, steady progress, though," he alleged.
Continued Below
---
Screenshot of 45th President Donald J. Trump's email statement: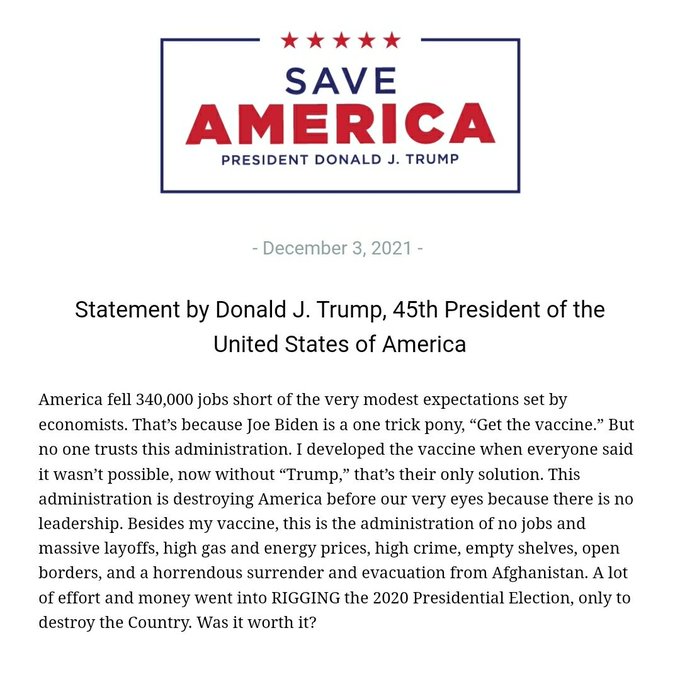 Meanwhile, mainstream media reported over the disappointing job growth in November:
CNBC is shocked by the November jobs report: "A huge miss" pic.twitter.com/bC2edazXJP

— RNC Research (@RNCResearch) December 3, 2021
"BIG MISS": Biden's jobs report "weaker than expected" pic.twitter.com/wdQVQ1LBT5

— RNC Research (@RNCResearch) December 3, 2021
Continued Below
---
CNN: November's jobs report a "disappointment," with Americans "not going back to those customer-facing jobs" pic.twitter.com/eGZWajViwn

— RNC Research (@RNCResearch) December 3, 2021
CNN on the November jobs report: "You see 210,000 jobs add back—that's less than half of what economists were expecting." pic.twitter.com/YMDJehND8g

— RNC Research (@RNCResearch) December 3, 2021
Bloomberg: November's underwhelming jobs numbers "a real surprise," coming in at "only half the level we anticipated" pic.twitter.com/Wl0GUiE8wn

— RNC Research (@RNCResearch) December 3, 2021
(Related: Biden on the Dismal Jobs Report: "Imagine if the Other Guy Was Here")
Follow us on Telegram @The Freedom Times