Arizona State Senator Wendy Rogers (R) has preserved documents and a video presentation of core findings on her website –which was presented by Racine County Sheriff's Office — over its investigation into absentee ballots that were reportedly filled out and sent in for nursing home residents.
"In this scheme, nursing home staff fraudulently voted absentee for residents who had dementia, were blind, and had other ailments preventing them from indicating a voting preference," Senator Rogers' website states— alongside a video of the Sheriff's news conference held on Thursday.
---
Senator Rogers tweeted a link to her website, which includes the news conference held by Racine County Sheriff Christopher Schmaling, along with PDF's of the investigation:
BREAKING: Sheriff caught voter fraud at nursing home. VIDEO and PDFs of briefing here.https://t.co/wM1oQduBAs

— Wendy Rogers (@WendyRogersAZ) October 28, 2021
---
Racine County Sheriff Christopher Schmaling said his office received a complaint from a relative of a nursing home resident who died on October 9,2020 that was suffering severe cognitive difficulties – and yet still voted with an absentee ballot for the November 3, 2020 election. Shirley, the nursing home resident, lived at the Ridgewood Care Facility.
According to My Vote Wisconsin, prior to being admitted to the Ridgewood Care Facility, Shirley last voted in 2016.
The daughter of Shirley contacted Ridgewood Care Center and was told by the executive director that the Wisconsin Election Committee gave facility staff the authority to help residents fill out their ballots, according to Sheriff Christopher Schmaling. Continued Below
---
Mount Pleasant Village Hall received letters from the Wisconsin Election Commission ("WEC") dated March 12, 2020, June 24, 2020, and September 25, 2020, stating that "Municipalities shall not use the Special Voting Deputy process" and should instead mail the absentee ballots, however, a notice was not posted at any of the facilities "because of COVID-19".
Senator Rogers noted of Sheriff Christopher Schmaling's findings:
42 Ridgewood residents voted
38 Ridgewood residents made a fresh request for an absentee ballot during 2020
The Voting Clerk stated during a Presidential or non-Presidential election, usually approximately 10 people will vote and 0 to 3 people will make a fresh request for an absentee ballot from the Ridgewood Care Center
RASO received copies of the Request for Absentee Ballots and the Ballot Envelopes
Continued Below
---
A copy of the PDF Election Integrity Presentation can viewed HERE.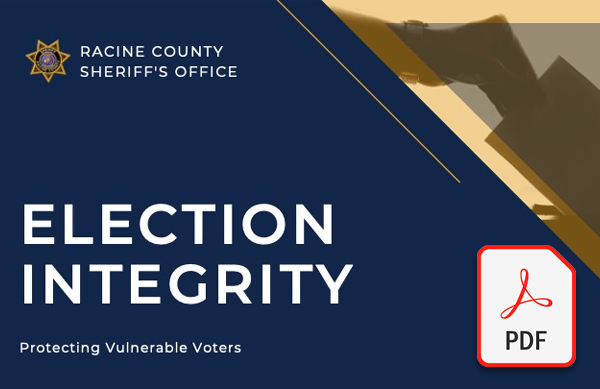 A copy of the investigation timeline can viewed HERE.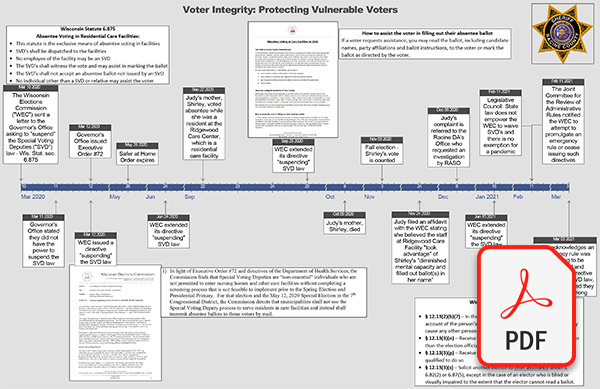 ---
A copy of Shirley's absentee ballot, presented during the Thursday news conference, was reportedly pre-filled out by facility staff at Mount Pleasant Village Hall; pictured below: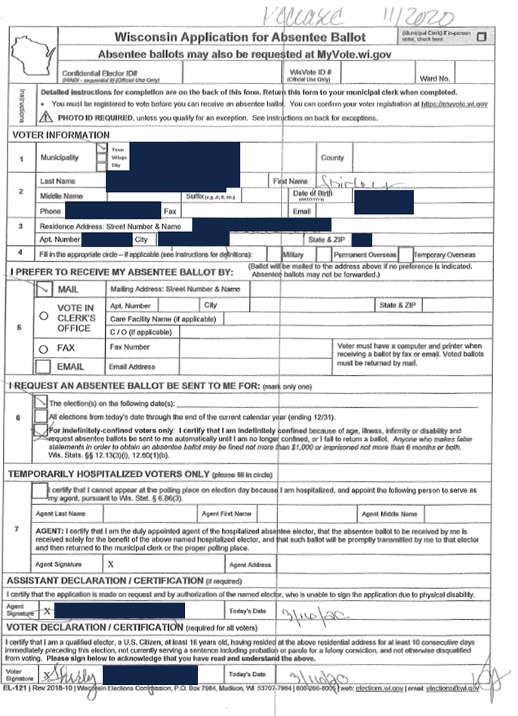 Racine County Sheriff Christopher Schmaling's news conference:
(Related: 'Call Your County Sheriffs…Ask Them To Investigate': Sen. Rogers Responds To Alleged Election Law Violations In Wisconsin)
Follow us on Telegram @The Freedom Times.