45th President Donald J. Trump issued a statement via email on Tuesday regarding a report released by "Highly respected Army intelligence captain Seth Keshel "over "the 2020 Presidential Election."
Following Keshel's report, the 45th Commander in Chief urged, "Something must be done—immediately!"
---
Statement by Donald J. Trump, 45th President of the United States of America:
Highly respected Army intelligence captain, Seth Keshel, has just released his Report on National Fraud Numbers with respect to the 2020 Presidential Election.
I don't personally know Captain Keshel, but these numbers are overwhelming, election-changing, and according to Keshel, could be even bigger in that they do not account for cyber-flipping of votes. They show I won the election—by A LOT!
Now watch the Democrats coalesce, defame, threaten, investigate, jail people, and do whatever they have to do to keep the truth from surfacing, and let the Biden Administration continue to get away with destroying our Country.
The irregularities and outright fraud of this election are an open wound to the United States of America. Something must be done—immediately! Continued Below
---
Seth Keshel explained his findings during an interview with Steve Bannon on "War Room" on Monday. (Keshel's full remarks begin at the 30:43 mark).
---
According to the Election Analysis by Seth Keshel:
Former US military intelligence officer and statistical analyst Seth Keshel reportedly predicted the 2016 election outcome accurately in all fifty states.
Following the November 2020 Presidential Election he analyzed the trends of voter registrations versus actual votes and discovered alarming anomalies in a number of counties, ones that defy trends that (in some cases) have proved reliable for over 100 years. He has published reports by county and by state that indicate which counties' vote counts align with the trend in voter registrations and which have small or large divergences.
Seth has been an advisor to Former Lt. General Michael Flynn and Federal Lawyer Sidney Powell.
---
In the following pages you will find maps and charts that flag each county as red, yellow or green, based on whether the 2020 vote totals aligned with the trends, or diverged in statistically unlikely ways: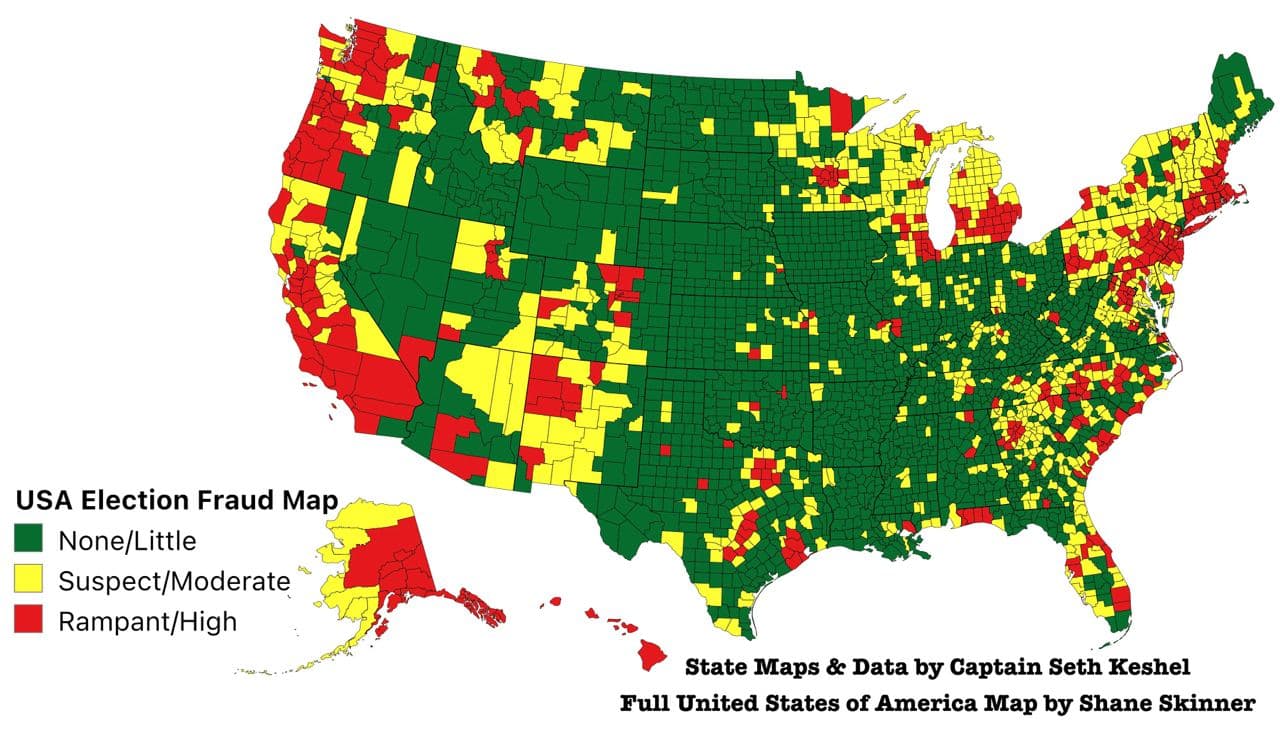 Where a large divergence is detected (red), this does not in itself prove fraud, but is a clear flag that the numbers should be investigated further.
Likewise, just because something is green doesn't mean there are no issues with the county. The analysis considers trends, and Seth considers it "bulletproof" when he has access to party registration numbers. If a county follows the same trends as the past years and current numbers suggest, it goes as green. Audits of green counties might be considered lower priority.
Read the full report HERE.
(Related: Trump Drops A Warning Over Sources Claiming 'There Is No Evidence Of Election Fraud': "In The End, Truth Will Win")