45th President Donald J. Trump issued a statement via email on Sunday following the passing of former Republican U.S. Senator from Kansas and GOP presidential candidate, Bob Dole.
"Senator Robert Joseph Dole died early this morning in his sleep. At his death, at age 98, he had served the United States of America faithfully for 79 years," said his family in a statement from the Elizabeth Dole Foundation.
---
"Bob Dole was an American war hero and true patriot for our Nation. He served the Great State of Kansas with honor and the Republican Party was made stronger by his service," President Trump said in a statement from "The Office of Donald J. Trump".
"Our Nation mourns his passing, and our prayers are with Elizabeth and his wonderful family," the 45th President expressed.
Earlier this year, it was announced that Dole was being treated for advanced lung cancer. Joe Biden visited Dole shortly before his diagnosis in February, The Epoch Times reported.
"While I certainly have some hurdles ahead, I also know that I join millions of Americans who face significant health challenges of their own," Dole said in a statement in February. Continued Below
---
Former Vice President Mike Pence also offered his tribute to the former Republican senator.
"Senator Bob Dole was a truly great man who lived an extraordinary life of service to America and he will be deeply missed by all of us who had the privilege to know him. His courageous service in World War II, his heroic recovery, his service in the House and in the Senate where he served as Majority Leader and his service on two national tickets, including as Republican nominee for President in 1996 were all driven by a love of country and patriotism synonymous with the Greatest Generation," Pence wrote on Twitter.
"Bob Dole's legacy is a legacy of service and Karen and I send our deepest sympathies and prayers to his beloved wife Elizabeth, the entire Dole family and all who loved and admired this true American hero from Kansas. God Bless Bob Dole," he added. Continued Below
---
Dole is survived by his wife, former Sen. Elizabeth Dole (R-NC), and his daughter, Robin Dole.
Screenshot of 45th President Donald J. Trump's email statement: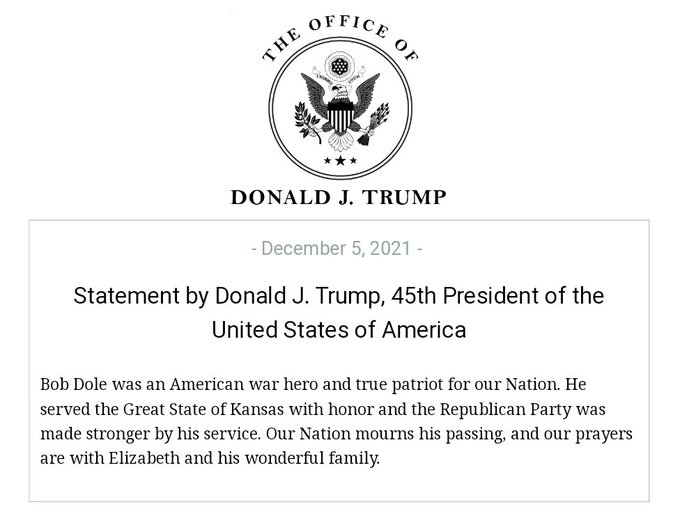 His courageous service in World War II, his heroic recovery, his service in the House and in the Senate where he served as Majority Leader and his service on two national tickets, including as Republican nominee for President in 1996…

— Mike Pence (@Mike_Pence) December 5, 2021
Bob Dole's legacy is a legacy of service and Karen and I send our deepest sympathies and prayers to his beloved wife Elizabeth, the entire Dole family and all who loved and admired this true American hero from Kansas. God Bless Bob Dole.

— Mike Pence (@Mike_Pence) December 5, 2021