45th President Donald J. Trump issued a statement on Friday via email from his "Save America" PAC advising Senate Minority Leader Mitch McConnell (R-KY) to "win with the debt ceiling, or resign" after the House Democratic slim majority passed their massive $1.75 trillion social spending and climate package: "The Build Back Better Act".
The vote was 220-213 with Rep. Jared Golden (D-ME), the only Democrat breaking with his party to oppose the bill.
---
Statement by Donald J. Trump, 45th President of the United States of America:
Looks like the Democrats are getting far more than they ever dreamed possible, largely because of Mitch McConnell's idiotic move of giving in on the Debt Ceiling and giving them two months to get their act together. They are destroying our Country!
We have been put in a much worse negotiating position, but we have the "Trump Card," and it's called the Debt Ceiling. If they don't drop this horrendous, Communistic style Bill that will be ruinous to all we stand for as a Country, we should not approve a Debt Ceiling increase.
The Old Broken Crow has to be willing to play this hand, not like last time when he folded up like a cheap umbrella. Play it and mean it, because the Debt Ceiling is far less destructive than the Bill that they will otherwise successfully pass, especially when added to the "Unfrastructure" Bill that was just so stupidly approved.
Republicans should not have allowed the separation, McConnell should not have given a two month reprieve, but it is what it is. Win with the Debt Ceiling, or resign! Continued Below
---
House Minority Leader Kevin McCarthy (R-CA) delivered a marathon, scathing floor speech, that lasted more than eight-and-a-half hours, ultimately forcing the vote until Friday morning. His speech was the longest floor speech in House of Representatives history, surpassing a speech House Speaker Nancy Pelosi (D-CA) gave in 2018.
He said Democrats are "out of touch" with ordinary Americans as he railed against the bill. "From bank surveillance to bailouts, this bill takes the problems President Biden and Democrats have already created and makes them much, much worse," McCarthy said in part.
The bill will now go to the Senate, where it is expected to be changed significantly before going back to the House either in December or early next year. Continued Below
---
Earlier in the week, Trump ripped Senate Minority Leader Mitch McConnell (R-KY), who he called "Broken Old Crow", for allowing Democrats "a two-month extension" to pass their $1.2 trillion infrastructure package in the House on November 5th, as previously reported by The Freedom Times.
"This is the Broken Old Crow's fault. He could have won it all using the Debt Ceiling—they were ready to fold. Now the Democrats have a big victory and the wind at their back. McConnell is a fool and he damn well better stop their 'Dream of Communism Bill' and keep his Senators in line, or he should resign now, something he should have done a long time ago," the 45th President said in part, in a Tuesday statement.
"Use the Debt Ceiling like it should have been used, you Old Broken Crow, to do so would hurt our Country far less than this horrible Bill," he urged.
Screenshot of 45th President Donald Trump's Friday email statement: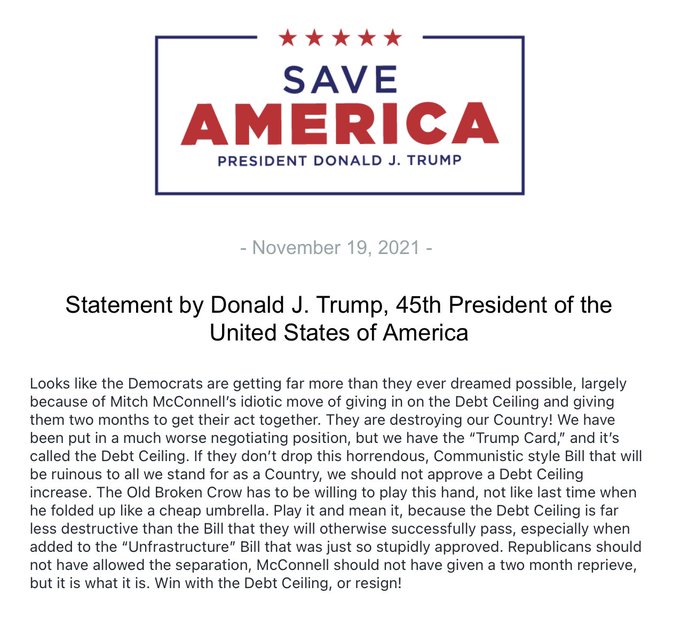 (Related: 'Will Never Ever Get A Trump Endorsement': 45 Warns GOP Lawmakers Against Voting For Dems' $1.75 Trillion Bill)
Follow us on Telegram @The Freedom Times