Kyle Rittenhouse was acquitted by jurors on all counts on Friday. The jury reached the verdict shortly after noon, and the foreman read it aloud in the Kenosha County Courthouse afterwards.
45th President Donald Trump reacted to the verdict in an email from his "Save America" PAC, saying, "Looks like President Trump was right!" and included a tweet from previous remarks he made over the case.
---
Trump added a tweet in his statement, posted by the user 'Jewish Deplorable', which showed comments Trump had made to CNN's Kaitlan Collins last summer — regarding Kyle Rittenhouse.
The 45th President had told the CNN White House correspondent last August that Kyle Rittenhouse "was trying to get away from them, I guess, it looks like. And then he fell, and they very violently attacked him."
"It's something that we're looking at right now, and it's under investigation, but I guess he was in very big trouble, and he would have been — he probably would have been killed," Trump said, adding, "But it's under investigation."
In an second email statement, the 45th President said on Friday, "Congratulations to Kyle Rittenhouse for being found INNOCENT of all charges. It's called being found NOT GUILTY—And by the way, if that's not self defense, nothing is!" Video Below
---
Watch:
Trump was right about Kyle Rittenhouse from literally Day 1 pic.twitter.com/8KHxdpLR2a

— Jewish Deplorable (@TrumpJew2) November 19, 2021
---
Rittenhouse sat quietly before the verdict was read on Friday. Afterwards, he started shaking and breathing heavily.
On the flip side, then-presidential nominee Joe Biden tweeted a video last September, suggesting Rittenhouse was a "white supremacist".
There's no other way to put it: the President of the United States refused to disavow white supremacists on the debate stage last night. pic.twitter.com/Q3VZTW1vUV

— Joe Biden (@JoeBiden) September 30, 2020
Biden also appeared to falsely smear Rittenhouse during an interview on CNN last year.
Biden went on CNN last year and accused Rittenhouse of being part of a white supremacist militia

I hope Kyle sues the sh*t out of himpic.twitter.com/47UnoV9VHL

— Jewish Deplorable (@TrumpJew2) November 19, 2021
Continued Below
---
On Friday, 78-year-old Joe Biden claimed that he now "stands by what the jury has concluded", adding, "The jury system works and you have to abide by it".
NOW – Biden "stands by" on the jury's decision in the Rittenhouse trial.pic.twitter.com/INJMiUMwzG

— Disclose.tv (@disclosetv) November 19, 2021
Shortly after, however, one of Biden's handlers released a statement, alleging he is "angry and concerned about the process."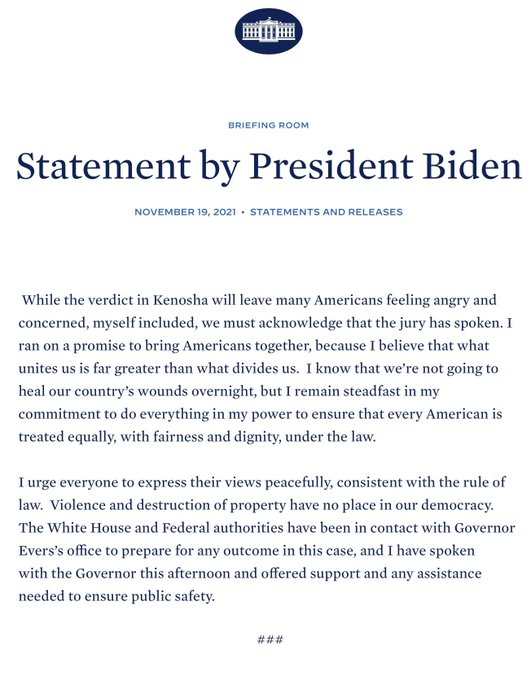 Continued Below
---
Kamala Harris, who shared a bail fund on Twitter for criminal rioters during the summer 2020 riots, said on Friday, "there's a lot more work to do" with the criminal justice system following the Rittenhouse verdict.
Kamala Harris comments on the Rittenhouse verdict pic.twitter.com/8G8bea2g81

— The Post Millennial (@TPostMillennial) November 19, 2021
Rittenhouse's defense attorney Mark Richards pointed out after the trial that Biden "said some things" that "are so incorrect and untrue".
NOW – Rittenhouse defense attorney Mark Richards: "Biden said some things that I think are so incorrect and untrue." pic.twitter.com/DLmHeKmHlW

— Disclose.tv (@disclosetv) November 19, 2021