45th President Donald J. Trump issued a statement on Monday via email from his "Save America" PAC, wasting no time by dismissing a report that Senate Minority Leader Mitch McConnell (R-KY) tried to have him disinvited from 78-year-old Joe Biden's inauguration.
This statement comes after Politico obtained an excerpt from "Betrayal," the new book from ABC News chief Washington correspondent Jonathan Karl, that claimed McConnell sought to have Trump removed from the Biden inauguration guest list because he "felt he could not give Trump another opportunity to disrupt the peaceful transfer of power", The Hill reported.
---
Jonathan Karl wrote McConnell sought to have the top four congressional leaders tell Trump to not attend the inauguration, but Minority Leader Kevin McCarthy (R-CA) rejected the plans, "arguing it would be an important message of unity".
The 45th President dismissed Jonathan Karl's excerpt in his Monday statement, calling the ABC News chief Washington correspondent a "third-rate reporter" and ripping Senator McConnell as an "old broken-down Crow".
"From Election Day, November 3rd, the day I realized that the 2020 Presidential Election was rigged, I would never have agreed to go to Joe Biden's Inauguration. This decision was mine, and mine alone," Trump confirmed. "The old broken-down Crow, Mitch McConnell, had nothing to do with it."
"According to third-rate reporter Jonathan Karl of ABC Fake News, McConnell unsuccessfully tried getting a letter signed by others for me not to go. This was nothing I ever heard of and actually, if he ever did get it signed, I probably would have held my nose and gone," he said. Continued Below
---
"The Election was rigged, the facts are clear, and Mitch McConnell did nothing. He was probably too busy working on deals with China for his wife and family!" 45th President Trump added.
"To all of those who have asked, I will not be going to the Inauguration on January 20th," Trump wrote in his last tweet before being suspended from Twitter.
"Betrayal" is expected to be released Tuesday. Continued Below
---
Screenshot of 45th President Donald J. Trump's email statement: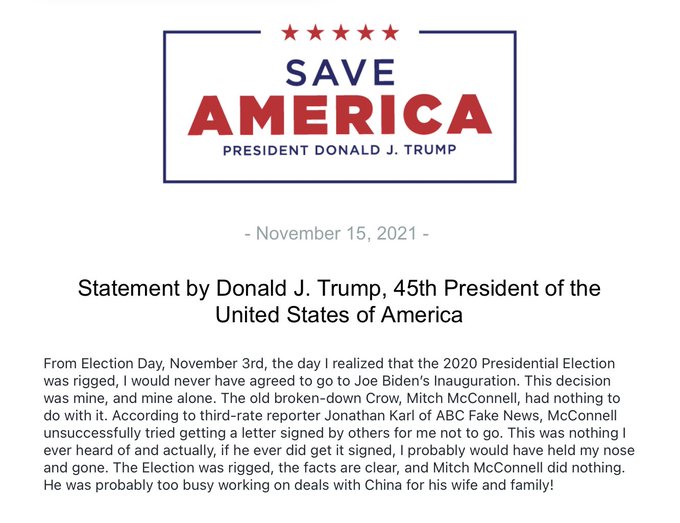 (Related: Trump: "I Have Quietly Said For Years That Mitch McConnell Is The Most Overrated Man In Politics—Now I Don't Have To Be Quiet Anymore")
Follow us on Telegram @The Freedom Times