45th President Donald J. Trump issued an email statement on Saturday from his "Save America" PAC, wondering if there is "any interest from good and SMART America First Republican Patriots to run primary campaigns against" who he called "RINOs, sellouts, and known losers"– that voted to impeach the former president and who recently crossed party lines to help Democrats pass the $1.2 trillion infrastructure bill. 
At CPAC earlier this year, he vowed to support primary challengers against GOP lawmakers who had voted to impeach him.
---
"Any interest from good and SMART America First Republican Patriots to run primary campaigns against Representatives Tom Rice, John Katko, Don Bacon, Don Young, Fred Upton (challenge accepted), Andrew Garbarino, Peter Meijer (challenge accepted), David McKinley (challenge accepted), Nancy Mace, Jaime Herrera Beutler (challenge accepted) and Chris Smith? You will have my backing!" President Trump said.
Trump endorsed state Rep. Steve Carra in September in his primary bid to unseat Congressman Fred Upton (R-MI), who voted to impeach Trump after the breach at the U.S. Capitol on January 6th.
In an email statement, Trump said in part, "It is my great honor to endorse Michigan State Representative Steve Carra to oppose RINO Congressman Fred Upton. Upton has not done the job that our Country needs, for years has talked about leaving office and not running again, and he voted for Impeachment of the President of the United States on rigged up charges. He doesn't deserve to keep his seat."
Businessman Tom Norton and conservative activist Audra Johnson have both thrown their hats in the ring, trying to unseat freshman Rep. Peter Meijer (R-MI). Continued Below
---
West Virginia's state Legislature in October approved a new congressional map that condenses the state's three seats into two and lumps GOP Reps. David McKinley and Alex Mooney in the same northern district. Within a few hours, both announced they planned to seek reelection in the same northern district. Mooney, 50, is a member of the House Freedom Caucus, Politico reported.
McKinley, 74, is a seventh-generation native of Wheeling, W.Va. but he is also more centrist. First elected in 2010, voted for the creation of a bipartisan commission to investigate Jan. 6 and against objections to the 2020 election results in Arizona and Pennsylvania from some supporters of then-President Donald Trump, per Politico.
McKinley, one of 13 House Republicans to vote in favor of the package when it received final congressional approval last week, has come under fire from fellow Republicans critical of the legislation, including former president Donald Trump, WV News reported. Continued Below
---
Trump in September endorsed Army veteran Joe Kent's bid to unseat Republican Representative Jaime Herrera Beutler of Washington state, who voted to impeach the 45th President in January.
Trump said in a statement that Herrera Beutler's impeachment vote was "against the Republican Party" and that Kent, if elected, would "be a warrior for the America First agenda."
In his Saturday email statement, Trump noted "Gonzalez [read here], Kinzinger [read here], and Rep. Reed already QUIT, they are out of politics, hopefully for good. Warmonger Liz Cheney (challenge accepted) is on the SKIDS with a 19% approval rating."
Trump endorsed former Wyoming national GOP committeewoman Harriet Hageman in September, who is running against –according to Trump — "warmonger and disloyal Republican" Liz Cheney (R-WY).
"Harriet has my Complete and Total Endorsement in replacing the Democrats number one provider of sound bites, Liz Cheney," Trump said in part. Continued Below
---
"Saving America starts by saving the GOP from RINOs, sellouts, and known losers!" the 45th President expressed in his statement on Saturday.
"In the Senate, the 'Disaster from Alaska,' Lisa Murkowski (challenge accepted), must go. There is 'almost' nobody worse!" Trump added.
He announced his "Complete and Total Endorsement" for Kelly Tshibaka of Alaska for Senate in June.
Screenshot of 45th President Donald J. Trump's email statement: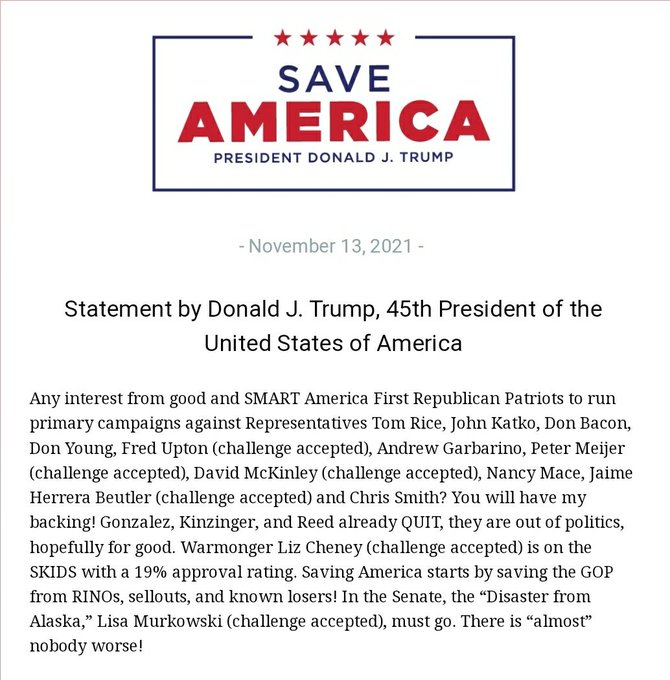 Follow us on Telegram @The Freedom Times