45th President Donald Trump issued an email statement Tuesday via his "Save America" PAC, calling his former attorney general a "swamp creature" who "was unable to handle the pressure" from the "mob".
The former president's remarks came after Barr reportedly told The Atlantic that Trump's constant claims of election fraud were "bullshit." The former attorney general also asserted that Sen. McConnell urged him to 'inject some reality' into Trump in regards election integrity. McConnell later confirmed Barr's account, as previously reported by The Freedom Times.
---
Statement by Donald J. Trump, 45th President of the United States of America:
Jonathan Karl's story on Slow Moving Bill Barr is made-up beyond any level imaginable. It is, in other words, Fake News!
I lost confidence in Bill Barr long before the 2020 Presidential Election Scam. It was when he dismissed and didn't act on the very powerful Horowitz Report, and instead gave everything over to John Durham, who has seemingly disappeared from the planet.
Can you even believe a report coming out during the Biden Administration? We caught them but unfortunately didn't have an Attorney General who was capable of acting and wouldn't go against his friends in Washington, D.C. Barr was a "swamp creature" who was devastated when the Radical Left wanted to impeach him.
He, and other RINOs (you see it all the time!), always fold. If he becomes "less" for President Trump, maybe they will leave him alone. It takes a very strong and special person to go against the "mob". Bill Barr was not that person. Continued Below
---
Despite evidence of tremendous Election Fraud, he just didn't want to go there. He was afraid, weak, and frankly, now that I see what he is saying, pathetic.
The facts are rapidly coming out in States and Courts about the 2020 Presidential Election Scam, and let's see if Bill Barr, a man who was unable to handle the pressure, was correct?
The answer will be a resounding, NO! Continued Below
---
Trump has closely watched the audits and investigations taking place in the states he allegedly lost, and he has frequently named people who he suggests were involved in election fraud or helping to cover it up in the November 2020 presidential election.
Meanwhile, the Arizona Senate eagerly awaits the conclusion of the Maricopa County election audit and is prepared to take action based on the findings, according to One America News Network. "The scanning process is said to conclude on Saturday and we can expect by the auditors to move out of the coliseum next week," One America's Christina Bobb reported on Friday from Veterans Memorial Coliseum where the audit is wrapping up, as previously reported by The Freedom Times. 
Further, a judge last week allowed a lawsuit alleging fraud in Fulton, Georgia during the November election that seeks a review of absentee ballots, to move forward.
The suit was filed by nine Georgia voters and is led by Garland Favorito, a longtime critic of Georgia's election systems. As part of the suit, they are seeking to inspect some 147,000 absentee ballots to determine whether there are illegitimate ballots among them. Continued Below
---
Screenshot of President Donald Trump's email statement: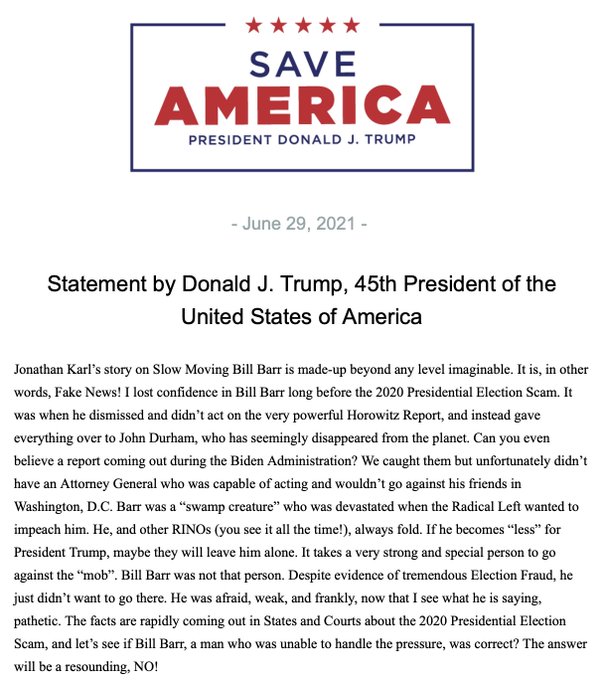 (Related: Trump Fires Back After Former AG Barr Calls Election Fraud Claims 'BS': "A Disappointment in Every Sense of the Word")