The 45 President gave his "complete and total endorsement" to Senator Ron Johnson (R-WI), although the Wisconsin Senator has not yet officially announced that he is running.
Former President Donald Trump released a statement from his Save America PAC– via email– on Thursday, urging Senator Johnson to "run" for reelection.
---
President Trump's official statement:
Even though he has not yet announced that he is running, and I certainly hope he does, I am giving my Complete and Total Endorsement to Senator Ron Johnson of Wisconsin. 
He is brave, he is bold, he loves our Country, our Military, and our Vets. He will protect our Second Amendment, and everything else we stand for. It is the kind of courage we need in the U.S. Senate. 
He has no idea how popular he is. Run, Ron, Run! Continued Below
---
President Donald Trump's official statement: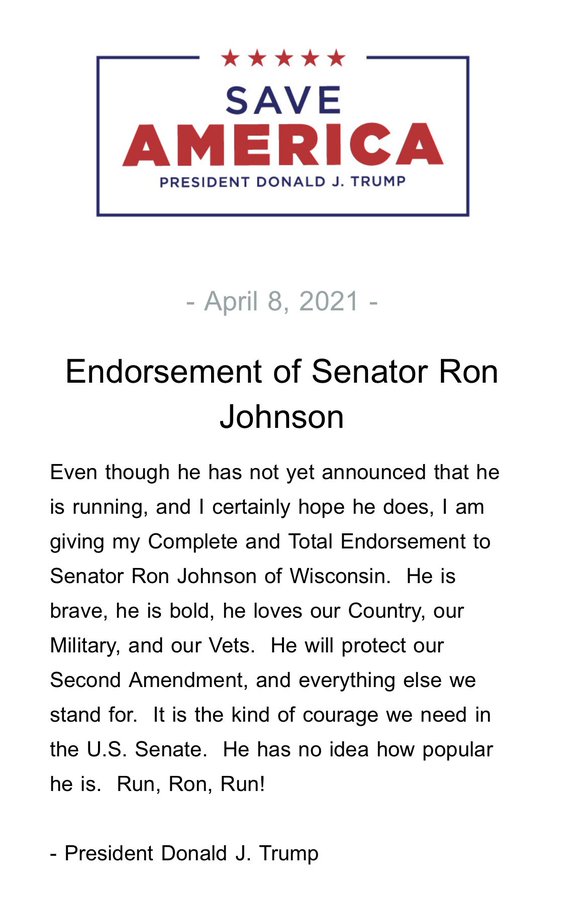 In February, Trump warned sitting Republican lawmakers that he could back primary challengers if he deems them to be insufficiently loyal. "Where necessary and appropriate, I will back primary rivals who espouse Making America Great Again and our policy of America First. We want brilliant, strong, thoughtful, and compassionate leadership," President Trump said in a statement.
Most recently, he announced his "complete and total endorsement" for Congressman Mo Brooks (R-AL) in the U.S. Senate race. Continued Below
---
The 45th President has also endorsed Senator John Boozman (R-AR) along with Henry McMaster, the governor of South Carolina since January 24, 2017, Lieutenant Governor, Tim Griffin, who is running for Attorney General in Arkansas, Republican Senator Mike Crapo of Idaho, and Congressman Jody Hice (R-GA) for Secretary of State in the state of Georgia to oust Brad Raffensperger.
He endorsed former campaign adviser Bob Paduchik in the race to be the next chair of the Ohio Republican Party and former White House press secretary and close ally Sarah Huckabee Sanders in her gubernatorial bid for Arkansas governor.
Additionally, he endorsed Senator Tim Scott (R-SC), Senator Jerry Moran (R-KS), congressional candidate Max Miller, a former White House aide who is in the race against an incumbent Republican in Northeast Ohio, and Republican Senator John Kennedy of Louisiana.
President Trump also urged Conservative NFL legend Herschel Walker to run for Georgia's Senate seat in 2022.