The 45th President congratulated Julia Letlow on her "big win" in an email statement he sent out Sunday following the Congresswoman-elect's victory in Louisiana's 5th Congressional District special election on Saturday.
Letlow won in a landslide less than three months after her late husband Congressman-elect Luke Letlow passed from complications of COVID-19 late last year, just days before he was due to be sworn into office. He died from a heart attack following a medical procedure at LSU Health Shreveport to remove a blood clot blamed on the virus.
---
Letlow, who lives in rural Richland Parish in northeastern Louisiana, will become the first woman to represent Louisiana in Congress in more than six years. She will also be the first Republican woman to ever represent Louisiana in Congress. Letlow won the election with 65%, avoiding a runoff against Democrat Sandra "Candy" Christophe of Alexandria, who finished second with 27%, News Star reported.
"This is an incredible moment and it is truly hard to put into words," Letlow said. "What was born out of the terrible tragedy of losing my husband, Luke, has become my mission in his honor to carry the torch and serve the good people of Louisiana's 5th District."
"I will be a servant to the people of this district and be present across the 24 parishes," she said. "I will listen more than I speak and seek to find solutions to our region's challenges. I will partner with those across the country who can help us capitalize on our district's strengths and bring real results home."
When Julia Letlow announced she would run, most of the state's Republicans, as well as former President Donald Trump, rallied behind her candidacy. "It's truly an honor to receive President Trump's endorsement and I look forward to joining in the fight to save our country by putting America first!," Letlow said earlier in the month. Continued Below
---
In a statement via email on Sunday, the 45th President expressed, "Congratulations to Julia Letlow on her BIG win in Louisiana!"
"Despite running in a field with a dozen candidates, no runoff election is necessary because she received 65% of the vote– an incredible victory," Trump said.
"I am thrilled for Julia and the entire Letlow family. Luke is looking down proudly from above," President Trump warmly added. Continued Below
---
President Trump's official statement: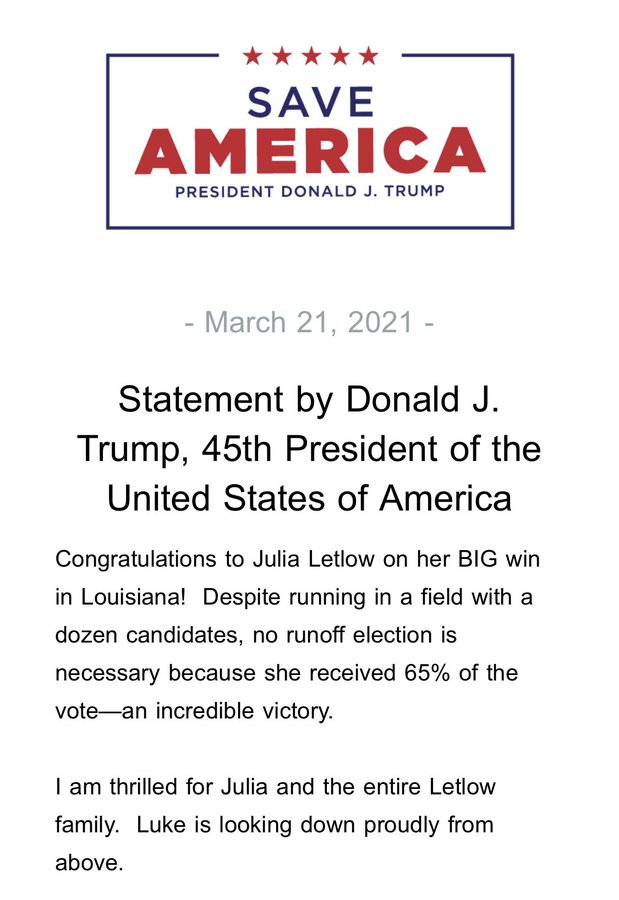 https://twitter.com/jbletlow/status/1373471599240871936?s=20
https://twitter.com/jbletlow/status/1373484134442618885?s=20
(Related: Rep.-elect Julia Letlow Reacts As 45th President Trump Announces His 'Complete & Total Endorsement' For Her)