The 45th President on Tuesday, released a scorching statement slamming Senator Mitch McConnell (R-KY), naming the Senate Minority leader as a "dour, sullen, and unsmiling political hack," adding that the GOP would "never again be respected or strong" with McConnell steering the wheel.
The former president's statement comes after the Senate on Saturday voted to acquit Donald Trump 57-43, falling well short of the 67 guilty votes needed to convict the 45th President in the second Democrat-led impeachment effort, and following McConnell criticizing Trump on the Senate floor.
---
Senator Mitch McConnell berated former President Donald Trump in remarks on the Senate floor Saturday following the acquittal of the 45th President. Although McConnell voted to acquit the former president of the impeachment charge against him, the Senate minority leader claimed that Trump's actions after the presidential election were "unconscionable" and foreshadowed that Trump still could face accountability for his actions in criminal courts, as reported by Swamp Drain.
"There's no question… that President Trump is practically and morally responsible for provoking the events of the day," Senator McConnell claimed. "The people who stormed this building believed they were acting on the wishes and instructions of their president. And having that belief was a foreseeable consequence of the growing crescendo of false statements, conspiracy theories and reckless hyperbole which the defeated president kept shouting into the largest megaphone on planet Earth."
He alleged: "These criminals were carrying his banners. Hanging his flags and screaming their loyalty to him. It was obvious that only President Trump could end this… Former aides publicly begged him to do so. Loyal allies frantically called the administration. The president did not act swiftly. He did not do his job… Instead according to public reports he watched television happily as the chaos unfolded, kept pressing his scheme to overturn the election."
But McConnell foreshadowed that Trump still could face accountability for his actions in criminal courts. Indeed, there is a criminal investigation in Georgia into whether Trump broke any laws with his phone call to Georgia Secretary of State Brad Raffensperger in which he asked Raffensperger to "find" enough votes to hand the state to Trump, reported Fox News. Continued Below
---
"President Trump is still liable for everything he did while in office," McConnell had claimed. "He didn't get away with anything yet. We have a criminal justice system in this country. We have civil litigation."
In a statement on Tuesday, the 45th President said in part, "The Republican Party can never again be respected or strong with political 'leaders' like Sen. Mitch McConnell at its helm. McConnell's dedication to business as usual, status quo policies, together with his lack of political insight, wisdom, skill, and personality, has rapidly driven him from Majority Leader to Minority Leader, and it will only get worse."
"The Democrats and Chuck Schumer play McConnell like a fiddle—they've never had it so good—and they want to keep it that way! We know our America First agenda is a winner, not McConnell's Beltway First agenda or Biden's America Last," Donald Trump said. Continued Below
---
Former President Donald Trump's full statement is below: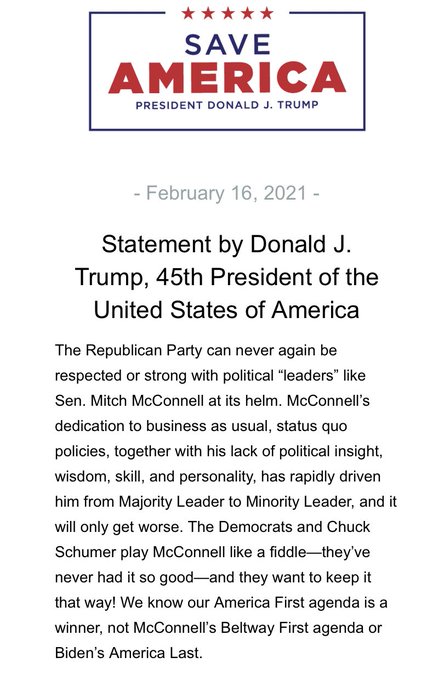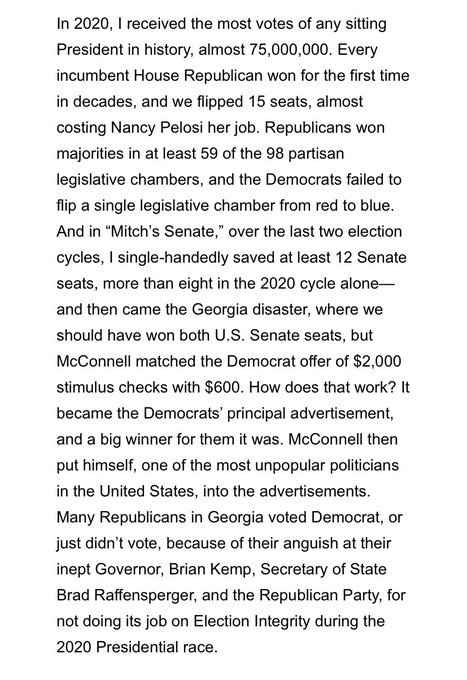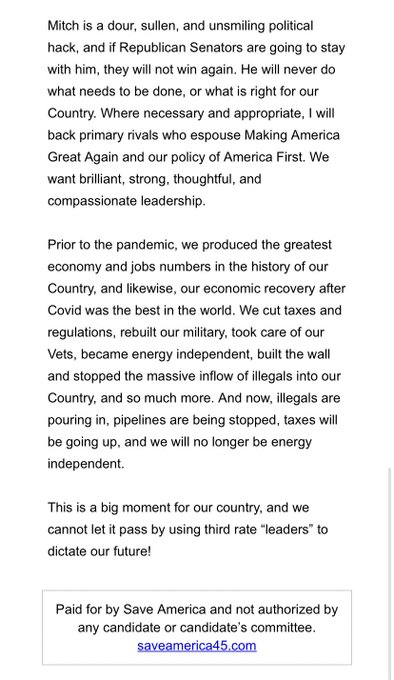 (Related: Former President Trump Releases A Statement After Being Acquitted In The Impeachment Trial)