The Office of Donald J. Trump, the 45th President, announced on Sunday trial lawyers David Schoen and Bruce L. Castor, Jr., will head his impeachment defense legal team.
The news comes a day after it was reported that South Carolina lawyers Butch Bowers and Deborah Darbier would no longer be part of Trump's defense team.
---
Lawyer David Schoen "has already been working with the 45th President and other advisors to prepare for the upcoming trial" which it expected to begin the week of February 8.
David Schoen and Bruce L. Castor Jr. both "agree that this impeachment is unconstitutional- a fact 45 Senators voted in agreement last week".
"It is an honor to represent the 45th President, Donald J. Trump, and the United States Constitution," said Schoen.
"I consider it a privilege to represent the 45th President," Castor expressed. "The strength of our Constitution is about to be tested like never before in our history. It is strong and resilient. A document written for the ages, and it will triumph over partisanship yet again, and always." Continued Below
---
Official statement from The Office Of Donald Trump: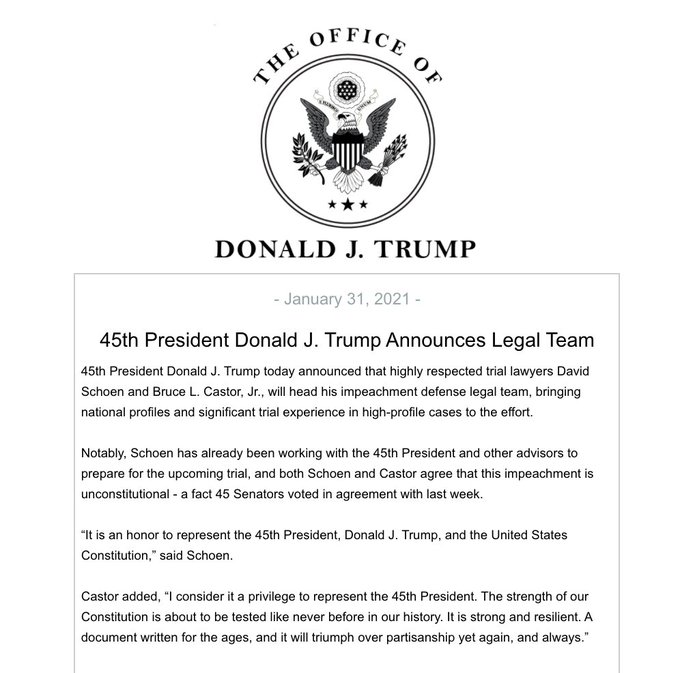 Schoen has over 30 years of legal experience in a number of states, according to his bio. He has primarily focused on the litigation of civil and criminal cases before trial and appellate courts.
Castor is the former district attorney for Montgomery County, which houses the suburbs of Philadelphia. He also had a brief stint as the acting attorney general of Pennsylvania, as reported by Washington Examiner.