The Commander in Chief awarded college wrestling legend Dan Gable with the Presidential Medal of Freedom in the Oval Office on Monday, the nation's highest civilian honor.
The president awards such honors to "individuals who have made especially meritorious contributions to the security or national interests of the United States, to world peace, or to cultural or other significant public or private endeavors", reported Fox News.
---
President Trump also spoke briefly to the press telling reporters that his attorney, Rudy Giuliani, is "doing well", after testing positive for the Coronavirus on Sunday. Trump said, "I just spoke to him. He's doing very well, no temperature. He actually called me early this morning. He was the first call I got. He's doing very well."
"Rudy Giuliani, by far the greatest mayor in the history of NYC, and who has been working tirelessly exposing the most corrupt election (by far!) in the history of the USA, has tested positive for the China Virus. Get better soon Rudy, we will carry on!!!" the Commander in Chief announced in a tweet on Sunday.
The president told reporters of Giuliani at the White House, "That's another champion. [He's] the greatest mayor in the history of New York and what he's doing now is more important, and he will admit that. He was the greatest mayor. He did a fantastic job, especially when you see what's going on now days. Rudy Giuliani was a great, great mayor and what he's doing now, and he will say it, it's even more important."
Fox News' chief White House correspondent, John Roberts, asked President Trump: "A week from now, Mr. President, the electors will meet to cast their vote. There's not a lot of time between now and then to make your case, to overturn the vote. At this point, are you looking to change the outcome of the election or try to make a case to the American people that it wasn't fair?" Continued Below
---
The Commander in Chief told Roberts, "Well, I think the case has already been made if you look at the polls. It was a rigged election. You look at the different states. The election was totally rigged. It's a disgrace to our country."
"It's like a third world country, these ballots pouring in everywhere, using machinery that nobody knows– ownership, nobody knows anything about. They have glitches, they call them glitches. The glitches weren't glitches. They got caught sending out thousands of votes all against me by the way. This was like from a third world nation and I think the case has been made, and now we find out what we can do about it," the president continued.
"You'll see a lot of big things happening over the next couple of days," he declared. Video Below
---
President Donald Trump's full remarks:
Trump says he spoke with @RudyGiuliani this morning and he's doing "very well." He says he does not have a temperature. pic.twitter.com/jkBmvLLKFP

— Caleb Hull (@CalebJHull) December 7, 2020
Rudy Giuliani tweeted Sunday evening, thanking his "friends and followers for all prayers and kind wishes":
Thank you to all my friends and followers for all the prayers and kind wishes.

I'm getting great care and feeling good.

Recovering quickly and keeping up with everything.

— Rudy W. Giuliani (@RudyGiuliani) December 7, 2020
The Trump campaign also released the following the statement regarding the timeline of Mayor Giuliani's COVID-19 diagnosis: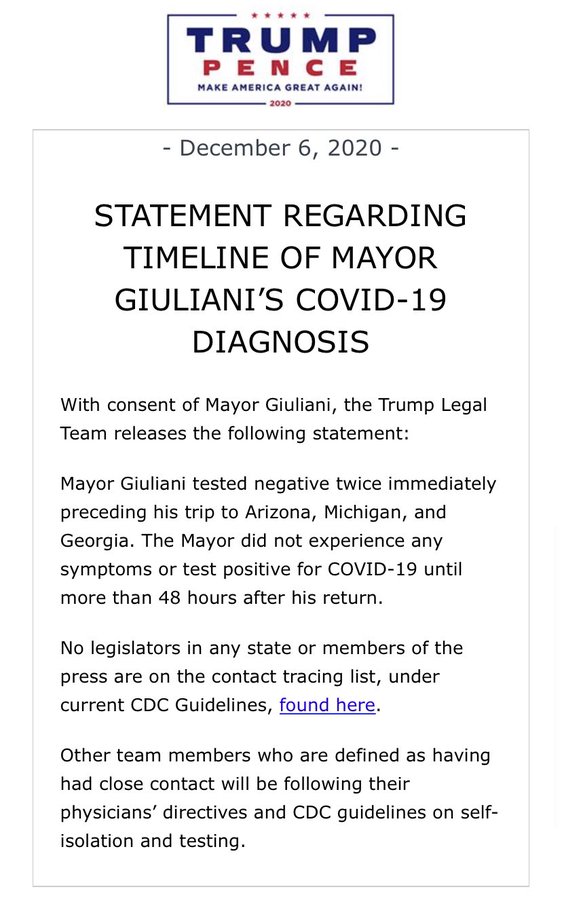 (Related: Justice Alito Moves Up Response Date On Emergency Application Challenging PA's Mail-In Ballots)