President Donald Trump released a statement Friday as the country awaits the results of the 2020 November presidential election, vowing to "never give up fighting for you and our nation".
During a White House briefing Thursday, the president pledged that he and his campaign would "not allow corruption to steal" the election, while maintaining that he will win the 2020 presidential race, and that his "goal is to defend the integrity of the election."
---
"If you count the legal votes, I easily win," the Commander in Chief said Thursday. "We will not allow corruption to steal such an important election—or any election for that matter."
He added: "We can't allow anyone to silence our voters or manufacture results."
In a Friday statement, President Trump vowed to "never give up fighting for you and our nation."
"We believe the American people deserve to have full transparency into all vote counting and election certification, and that this is no longer about any single election. This is about the integrity of our entire election process," the president explained. Continued Below
---
(Related: Vernon Jones Rips GA's Vote Tallying Process: "How In The Hell Can You Send A Man To The Moon, But You Can't Get Results In 24 Hours!")
"From the beginning we have said that all legal ballots must be counted and all illegal ballots should not be counted, yet we have met resistance to this basic principle by Democrats at every turn. We will pursue this process through every aspect of the law to guarantee that the American people have confidence in our government," the president guaranteed.
"I will never give up fighting for you and our nation,' he affirmed. Continued Below
---
President Donald Trump's official statement: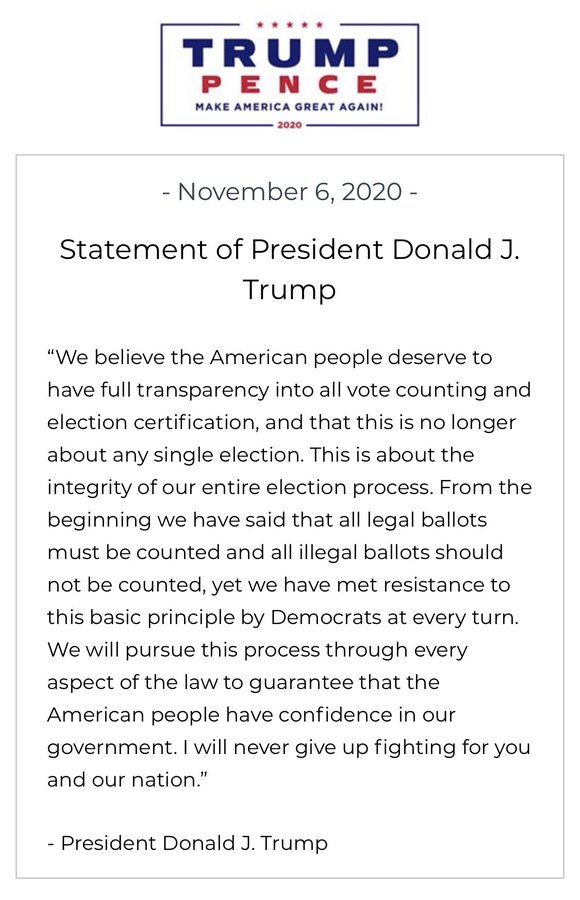 Meanwhile, President Trump also quoted former Independent Counsel Ken Starr's remarks in part, during an interview with Stuart Varney on Friday:
https://twitter.com/realDonaldTrump/status/1324750561514848256?s=20
---
https://twitter.com/realDonaldTrump/status/1324750568817102852?s=20
What happens if the #SupremeCourt needs to get involved with the #ElectionResults2020? Former Independent Counsel Ken Starr says #SCOTUS may not actually determine the outcome. #Trump #Biden #VarneyCo pic.twitter.com/dwyfEpkvI1

— Varney & Co. (@Varneyco) November 6, 2020
(Related: Dobbs To Barr: "Mr. Attorney General, I Implore You… Stand Up & Add Your Voice To Those Demanding The Integrity Of Our Elections Be Protected, Restored")