C-SPAN announced on Thursday they are suspending its political editor Steve Scully indefinitely after he admitted to falsely claiming that his Twitter account was hacked last week.
President Trump immediately responded on Twitter as the news broke– pertaining to Scully's suspension for lying about the Twitter hack.
---
Steve Scully took to Twitter last Thursday appearing to seek advice former White House adviser Anthony Scaramucci and then denied it by claiming that he was hacked.
The C-SPAN host, who had been scheduled to moderate the debate this week between President Donald Trump and Democratic presidential nominee Joe Biden admitted he lied about sending a tweet to former White House adviser Anthony Scaramucci, issued a statement Thursday to address the controversy following his suspension.
"For several weeks, I was subjected to relentless criticism on social media and in conservative news outlets regarding my role as moderator for the second presidential debate, including attacks aimed directly at my family," Scully wrote in his statement. Continued Below
---
"This culminated on Thursday, October 8th when I heard President Trump go on national television twice and falsely attack me by name. Out of frustration, I sent a brief tweet addressed to Anthony Scaramucci. The next morning when I saw that this tweet had created a controversy, I falsely claimed that my Twitter account had been hacked," he continued.
"These were both errors in judgment for which I am totally responsible. I apologize," Scully said.
"These actions have let down a lot of people, including my colleagues at C-SPAN, where I have worked for the past 30 years, professional colleagues in the media, and the team at the Commission on Presidential Debates. I ask for their forgiveness as I try to move forward in a moment of reflection and disappointment in myself," he added. Continued Below
---
The Commander in Chief pounced on the news, responding, "I was right again!"
"I was right again! Steve Scully just admitted he was lying about his Twitter being hacked. The Debate was Rigged! He was suspended from @cspan indefinitely. The Trump Campaign was not treated fairly by the 'Commission'. Did I show good instincts in being the first to know?" the president asked.
https://twitter.com/realDonaldTrump/status/1316829885147480064?s=20
The president also announced that he will be "doing a major Fake NBC News Town Hall Forum live tonight from Miami, at 8:00 P.M."
https://twitter.com/realDonaldTrump/status/1316839129833902080?s=20
---
C-SPAN also issued a statement, revealing that the network and the Commission on Presidential Debates (CPD) were made aware about Scully's fabrication on Wednesday.
"We are very saddened by this news and do not condone his actions," C-SPAN said. "Starting immediately, we have placed Steve on administrative leave."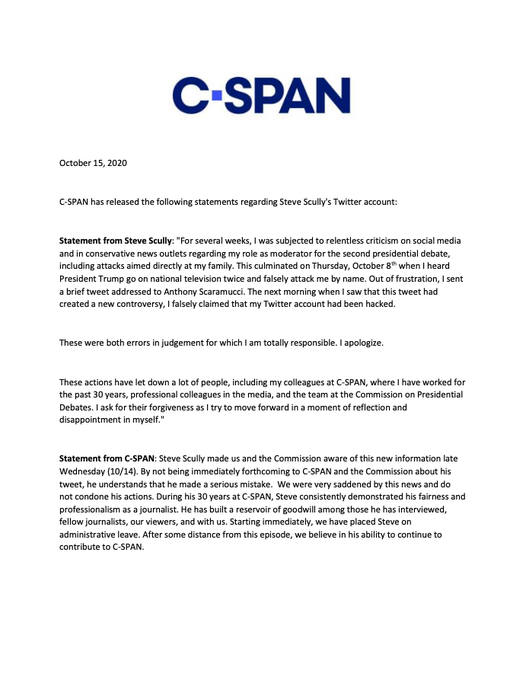 Scully's credibility as an unbiased debate moderator was initially questioned after it became known that he previously worked as an intern for then-Sen. Biden and served as a staffer for the late Sen. Ted Kennedy, D-Mass. During the 2016 campaign, Scully shared a New York Times op-ed headlined, "No, Not Trump, Not Ever", Fox News reported.
(Related: Bob Dole Comes Out Of Nowhere & Slams The Debate Commission Over Their Apparent 'Bias' Against Trump)