President Trump canceled a planned 2018 trip to a cemetery for American war dead in France because of the weather and not because of disdain for the slain soldiers who are buried there or concern about how the weather would affect his hair, despite a report from The Atlantic making that claim, Fox News reported.
A White House official released a redacted email proving that a "bad weather call" was indeed the reason the Commander in Chief could not attend the Aisne-Marne American Cemetery in 2018.
---
Redacted email proving that a "bad weather call":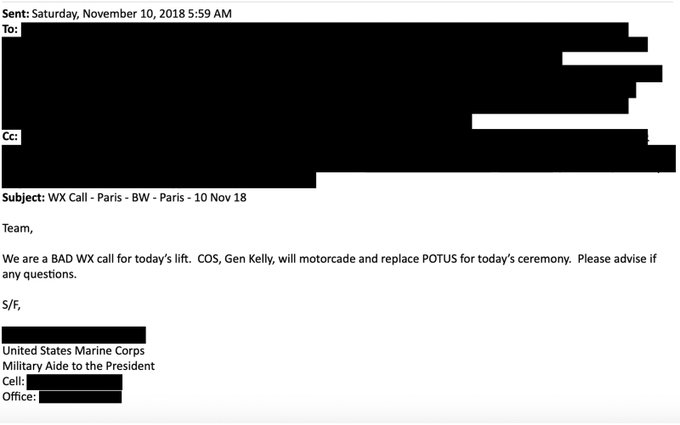 Regarding the lede of this story: I obtained documents from the Navy via #FOIA about Trump's 2018 trip to Aisne-Marne American Cemetery near Paris and the documents say his transport was canceled by the Navy due to rain. https://t.co/oNWsvAPy1z pic.twitter.com/keFtW7QC8b

— Jason Leopold (@JasonLeopold) September 4, 2020
---
On Thursday evening, President Trump called the article accusing him of disparaging the military "disgraceful" and "fake news".
The Commander in Chief on Friday, wrote on Twitter, saying, "The Atlantic Magazine is dying, like most magazines, so they make up a fake story in order to gain some relevance. Story already refuted, but this is what we are up against. Just like the Fake Dossier. You fight and and fight, and then people realize it was a total fraud!"
---
https://twitter.com/realDonaldTrump/status/1301893907295371266?s=20
White House press secretary Kayleigh McEnany on Friday, slammed The Atlantic report, declaring that it is "Quite clearly fake news".
#BREAKING: Kayleigh McEnany SLAMS Atlantic report: "Quite clearly fake news." pic.twitter.com/N3GCGO3FL9

— The Hill (@thehill) September 4, 2020
Further, Trump administration officials went on the record to vehemently refute the anonymous sources in the Atlantic story– who were with the president that day:
Former White House Press Secretary, Sarah Huckabee Sanders tweeted Thursday: "The Atlantic story on @realDonaldTrump is total BS. I was actually there and one of the people part of the discussion – this never happened. I have sat in the room when our President called family members after their sons were killed in action and it was heart-wrenching. These were some of the moments I witnessed the President show his heart and demonstrate how much he respects the selfless and courageous men and women of our military. I am disgusted by this false attack."
Hogan Gidley, Former Deputy White House Press Secretary tweeted Thursday: "These are disgusting, grotesque, reprehensible lies. I was there in Paris and the President never said those things. In fact, he would never even think such vile thoughts because I know from firsthand knowledge that President Trump absolutely loves, respects, and reveres the brave men and women of the United States military. He always has and always will. These weak, pathetic, cowardly background 'sources' do  not have the courage or decency to put their names to these false accusations because they know how completely ludicrous they are. It's sickening that they would hide in the shadows to knowingly try and hurt the morale of our great military simply for an attack on a political opponent." Continued Below

---
Dan Scavino, White House Deputy Chief of Staff for Communications tweeted Thursday: "I was with POTUS in France, with Sarah, and have been at his side throughout it all. Complete lies by 'anonymous sources' that were 'dropped' just as he begins to campaign (and surge). A disgraceful attempt to smear POTUS, 60 days before the Presidential Election! Disgusting!!"
Jordan Karem, Personal Aide to President Trump wrote on Twitter Thursday: "This is not even close to being factually accurate. Plain and simple, it just never happened," adding, "Again, this is 100% false. I was next to @POTUS  the whole day! The President was greatly disappointed when told we couldn't fly there. He was incredibly eager to honor our Fallen Heroes."
Johnny DeStefano, Former Counselor to the President tweeted Friday: "I was on this trip. The Atlantic bit is not true. Period."
John Bolton, Former National Security Advisor: "[Trump] got support from an unlikely source on Friday when John R. Bolton, his former national security adviser who has broken with him and called him unfit for office, said he was on the trip in question and never heard Mr. Trump make those remarks. 'I didn't hear that,' Mr. Bolton said in an interview." (The New York Times, 9/4/2020)
Even #BookDealBolton got this one right – a bad weather call was the reason for the canceled presidential trip to Aisne-Marne American cemetery in 2018. https://t.co/Wykvfaed63

— Jason Miller (@JasonMillerinDC) September 4, 2020
Continued Below

---
Stephen Miller, White House senior advisor, and Tony Ornato, then-secret service special agent in charge of the presidential protective division, denied The Atlantic Article.
Lt. General Keith Kellogg (Ret.), National Security Adviser for Vice President Pence tweeted on Thursday: "The Atlantic story is completely false. Absolutely lacks merit. I've been by the President's side. He has always shown the highest respect to our active duty troops and veterans with utmost respect paid to those who have given the ultimate sacrifice and those wounded in battle."
Mark Meadows, White House Chief of Staff tweeted Thursday: "In the time that I've known @realDonaldTrump, both as a member of Congress and most recently serving as his Chief of Staff, I've seen publicly and privately how he treats our men and women in uniform. I've personally accompanied him to Walter Reed and veterans events of all…kinds, where he directly interacts with service members and their families, with and without cameras present. I've seen firsthand the level of respect and admiration he has for those who have stepped up to serve our country. The anonymous allegations… ..contained in the Atlantic story are offensive, false, and utterly devoid of merit. To veterans all over the country reading this nonsense: President Trump loves you, appreciates you, and will ALWAYS be there for you. No false political hit job will EVER change that."
Continued Below

---
Alyssa Farah, White House Communications Director wrote on Twitter Thursday: "On that Atlantic piece: It's offensive & patently false. @realDonaldTrump holds the military in the highest regard. He's demonstrated his commitment to the force: delivering a pay raise to our troops, increasing military $$, signing vets reform & supporting military spouses. I've watched @realDonaldTrump solemnly sign letters to the families of fallen heroes. He's honored their memories by doing more than any modern president to get us OUT of endless wars."
Kayleigh McEnany, Press Secretary for President Trump tweeted Thursday: "I see President @realDonaldTrump consistently express his heartfelt gratitude and absolute admiration for our brave men and women in uniform. Just yesterday, he was truly humbled to be in the presence of our courageous World War II veterans. This Atlantic story is garbage!"
Judd Deere, Deputy Press Secretary for President Trump also tweeted Thursday: "Not a soul brave enough to put their name on any of these accusations. That's because they are false. Just another anonymously sourced story meant to tear down a Commander-in-Chief who loves our military and has delivered on the promises he's made. What a disgrace!"