Shelby County in Memphis, Tennessee may declare racism as a pandemic. A county commission committee voted in support of the resolution. The full commission will still have to debate this topic again and make a final decision, according to WREG 3.
However, the wording in a resolution proposed, has one commissioner offering a different resolution and suggested that they combine hers with the original.
---
Tami Sawyer was one of eight commissioners who sponsored the resolution, which she says acknowledges racism in the health system.
"This will allow us to tap into additional programming and funding that is addressing the pandemic that racism is," Sawyer said.
However, commissioner Amber Mills wondered: " Why call it a pandemic? That feels like everyone is racist," Mills argued.
"It's not saying that individually everybody in Shelby County is racist. It's saying it colors the vast majority of the interactions, policies, the education and the funding," Sawyer claimed. Video Below
---
Watch:
---
Meanwhile, Tami Sawyer was a Memphis Mayoral candidate in 2019 and faced backlash after a series of offensive tweets she shared resurfaced.
In July of 2009, she tweeted, "Little white kids in scary movies freak me out. I'm glad I can't have white babies. cuz I might kill one thinking their damned." Continued Below
A year later, in May, two references were made about police. One said, "I have so little respect for the police." Two days later, she admitted, "I have little admiration or respect for the police. protect and serve? meh."
She was also proud that she made it home without getting caught while driving drunk:

Continued Below

---
Another tweet that disturbed Memphians was posted in 2009, one month after Memphis Animal Services was raided and the shelter director was charged with animal cruelty.
Her tweet read: "The lady whose dog got euthanized at the shelter made me laugh. I know it's mean, but she was crying and she just looked crazy."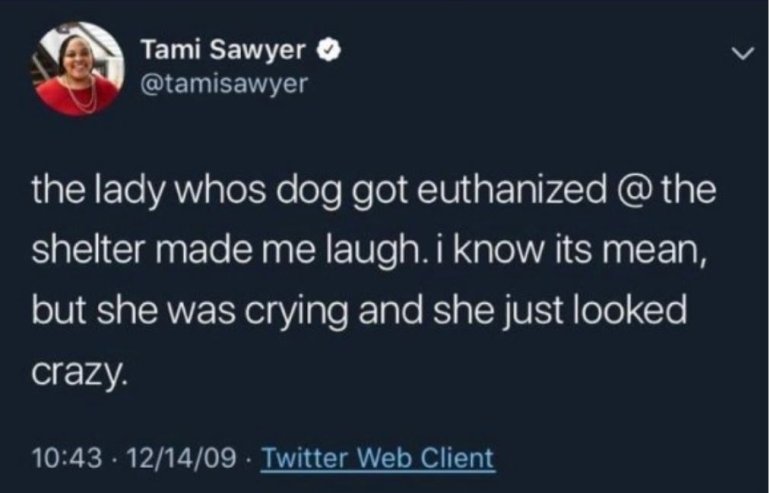 In another post, she described "outing" a lesbian teacher.
A7. We had a teacher that was a closeted lesbian. Decided it was our duty to out her. She quit after a semester. #meangirls #pocprepchat

— Tami Sawyer (@tamisawyer) July 9, 2014
Other posts on Sawyer's account use the word "retarded" to describe people and things. According to a search of her Twitter account, Sawyer had used the word "retarded"  at least six times, WREG reported.
@amoniquek hahaha. I love that fool but he is retarded.

— Tami Sawyer (@tamisawyer) March 3, 2013
Continued Below

---
Tami Sawyer has since said "she'd grown as a person" since she made the statements several years ago.
"It is clear that I have not always been the person that I am today. I have said things on public platforms that are hurtful, offensive, and just wrong. … To those my words and actions from my past hurt: I am sorry," Sawyer said.
Memphians have questions about what's happening in their city right now and who has plans to address their concerns. I share those questions.

It's the first day of early voting. We're still waiting on answers.

Get out and vote, y'all. #wecantwait

— Tami Sawyer (@tamisawyer) September 13, 2019
Related: Rep. Cohen's District, Memphis, TN Ranks As The Second Most Dangerous City In America, Study Finds)