Donald Trump Jr. and his girlfriend Kimberly Guilfoyle stepped into the lion's den Thursday as they appeared on ABC's "The View" to discuss his new book, "Triggered: How the Left Thrives on Hate and Wants to Silence Us."
During the episode, however, co-host Sunny Hostin accused Trump Jr. of committing a "federal crime", because he tweeted an article that Drudge Report advertised from Real Clear Politics about the alleged whistleblower.
While speaking to Kimberly Guilfoyle, Sunny Hostin asked her if she advised her boyfriend that it is federal crime to "out a whistleblower"?
"Under U.S. code 1505 [Title 18], it is a crime to do that. My law degree says it is," Hostin said.
Guilfoyle said that it may not have been the most prudent decision to "retweet" an article, but she added, "We've talked about transparency. The President of the United States released the transcript of exactly what happened in that phone call. The whistleblower is giving his 'opinion'… of what transpired. So that's out there to see. He's not trying to hide anything."
Asked if he regrets retweeting the Drudge article, Donald Trump Jr responded, "I don't think I should have to forgo my first amendment right. I didn't want to create hysteria, but if I'm reading an article, … the name's out there. … I don't regret doing it. It's out there, I read it in an article. I've been reading it for a week, I saw it on the Drudge report. This is not some secret." (Continued Below)
"Because it's Donald Trump Jr., because he's an outspoken guy… why was there no outrage when Drudge report, which is a major website, probably the largest aggregator of media in the news in America– he puts it out there a few days ago and nothing, crickets– no problem with that," Donald Trump Jr. said.
As Trump Jr. was explaining why he tweeted the article, the audience applauded his decision for defending himself, but Joy Behar interjected and vented at the audience, "This is not a MAGA rally! Calm down," she expressed.
Trump Jr. also said, "The whistleblower's name was on a little site called the Drudge Report a couple of days ago and Real Clear Politics. I literally quote tweeted an article that had the guys name in the title of the article. I wish the outrage would be equal. There was no outrage when my family got an exploding letter with a white powder substance in it. They're protecting a guy in the CIA with great outrage… it's not a level playing field in terms of outrage. We live in an outrage culture. I'm a private citizen putting this out there, everyone in this room could have read it." (Video Below)
Trump Jr. noted, "It seems to me everyone is outraged because everyone is saying, 'Okay, he's tied to Joe Biden while Joe Biden was working in the White House. He has ties to [John] Brennan, who has been leading the cabal on Trump.' Let's be honest about what it is."
Donald Trump Jr. defending tweeting the Drudge article and Joy Behar and Joy Behar telling the audience: "This is not a MAGA rally".
WOW. @TheView's @sunny just accused @DonaldJTrumpJr of committing a Federal Crime by Tweeting an article.

"it is a federal crime to out a whistleblower… My law degree says it is." pic.twitter.com/15jQqW94r7

— Benny (@bennyjohnson) November 7, 2019
.@DonaldJTrumpJr: "The whistleblowers name was on a little site called the Drudge Report a few days ago."

— Benny (@bennyjohnson) November 7, 2019
The entire media is #Triggered that I (a private citizen) tweeted out a story naming the alleged whistleblower. Are they going to pretend that his name hasn't been in the public domain for weeks now? Numerous people & news outlets including Real Clear Politics already ID'd him. https://t.co/bcamyTaXP3

— Donald Trump Jr. (@DonaldJTrumpJr) November 6, 2019
(Continued Below)

The article Drudge Report advertised: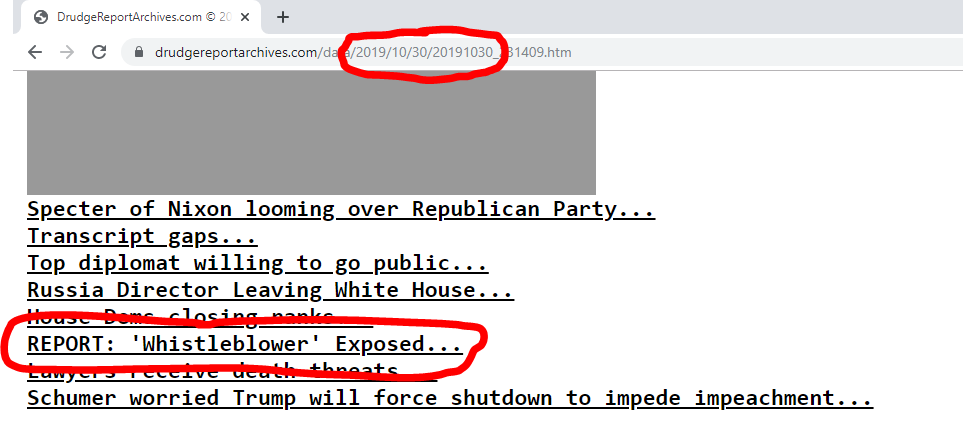 Here's the link to the archive of the Drudge Report for last Wednesday (10/30): https://t.co/2gDKmd8YhZ

The link goes to an article from RealClearInvestigations: https://t.co/uiFoTkP2lb

The link Trump Jr. tweeted out cited RealClearInvestigations: https://t.co/BWYDh831cE

— Ryan Saavedra (@RealSaavedra) November 6, 2019
(Related: Whoopi & Behar Blast Pres Trump In Front Of Donald Trump Jr.; Don Jr. Fires Back: "Joy, You've Worn Black Face")